3 Best Smartwatches under 15000 Rs in India (2015)
"A Man with One watch knows what time it is; A Man with two watches is never quite sure" – A famous quote said by Lee Segall. But looking at today's modern world with technology growing richer and richer everyday, perhaps we can rephrase the quote by saying "A man with one watch knows what time it is; a man with Smart Watch knows it for sure."
---
Also Read: 5 Best Smartwatches in India (2016)
---
A smart watch comes in the wearable gadgets category, and is a computing device worn on a user's wrist that offers functionality and capabilities similar to those of a smartphone. Smart watches are designed to, either on their own or when paired with a smartphone, provide features like connecting to the internet, running mobile apps, making calls, checking caller ID, accessing weather updates, offering GPS co-ordinates and location directions, and much more.  
Smart watches are still in the new category of gadgets and are still trying to make their own place among other new gadgets. There had been many smartwatches over the years but hardly few succeeded in making the mark. Currently we see some good smartwatches as a result of consistent improvements from companies like Motorola, Sony, LG, Samsung, etc.
So, to help you in buying your new smartwatch, we have short listed 3 Best Smartwatches under 15000:
---
1. Motorola Moto 360:
The smart watch features a 1.56-inch black lit LCD display corning Gorilla glass 3 with a 320×290 pixel resolution at 205 ppi and is powered by TI OMAP processor runs on Android Wear along with 512MB RAM and 4GB internal storage. The smart watch is backed by a 320mAh battery and weighs only 49g. Connectivity options also include Bluetooth 4.0. The water-resistant Moto 360 also responds to voice and include other functions like Pedometer, Single Physical Button, and Wireless Charging with Charging Dock Included. It can also monitor your Heart rate. The Motorola Moto 360 is compatible with smartphones having Android 4.3 and above and is available on Flipkart for Rs 13,999.
---
---
2. Samsung Galaxy Gear Fit:
The smart watch sports a 1.63-inch curved Super AMOLED display with a 320×320 pixel resolution. It is backed by a 300mAh Li-ion battery that lasts for good two-three days and allows users to make, receive and dismiss call. The wearable has 1.0 GHz dual core processor with 512 MB of RAM that runs on Samsung Tizen OS and has 4GB of inbuilt memory. Connectivity options also include Bluetooth 4.0 and USB 2.0. The smart watch sports many health apps such as Pedometer, Exercise, Heart Rate, Music Player, Media Controller, WatchON Remote (IrLED), Voice Call, Voice Memo, S Voice, Schedule, Auto Lock, Smart Relay. The Samsung Gear 2 Neo also has sensors like HR Sensor, Accelerometer, Gyro Sensor and measures 37.9 x 58.8 x 10.0 mm in size and weighs only 55g. The IP67 certified for dust and water resistance wearable is compatible with limited Samsung Galaxy Smartphones and is available on Flipkart  for Rs 11,990. You can also go for the Samsung Gear Fit @ 6,999 Rs.
---
---
3. Sony Smart Watch SW2: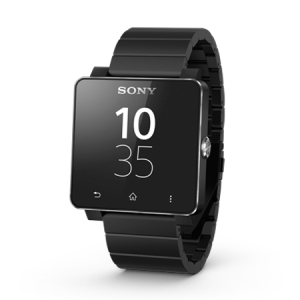 The Smart watch features 1.6 inch Transflective LCD display with a 220 x 176 pixels. It measures 42 x 9 x 41 mm and weighs 122.5g. Connectivity options include NFC, USB port and Bluetooth 3.0. It functions call handling (Answer, Reject, Mute, Volume Handling) and comes with pre-loaded social networking apps with other features like Music Remote Extension and Music Handling, Weather, Messaging and View finder. The Sony Smart Watch 2 is lP57 certified for water resistance and is compatible with android devices which run on Android 4.0 or above. The silicon strap or stainless steel wearable is available on Flipkart for Rs 8,719.
---
---
Please like and share this post if you find it useful and like always, feel free to ask your questions. A prompt reply awaits you.