5 Best Headphones under 2000 Rs in India (2015)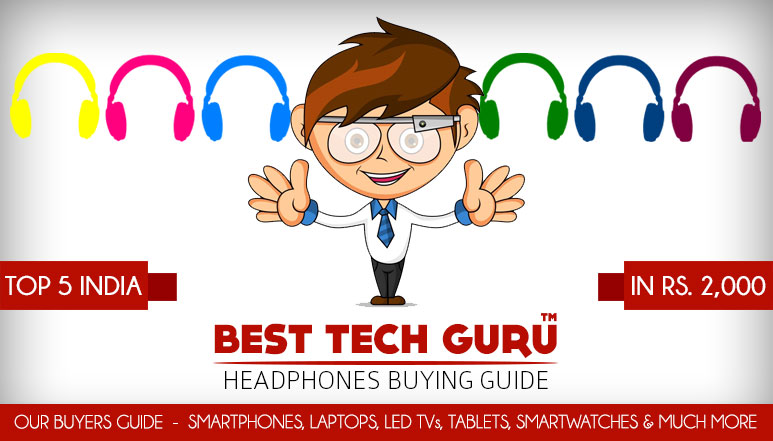 "Music gives a soul to the universe, wings to the mind, flight to the imagination
and life to everything."
We all enjoy the company of music doing almost every work, from jogging in the morning to travelling from one place to another or during free time. But it will not be a pleasant experience if you don't have a good set of headphones in your kitty.
Gone are the days when headphones were considered as a bulky gadget to carry. Over the years the headphones companies have improved a lot from bulky designs to lightweight and easy to handle. The Headphone Companies have not just improved with designs, the headphones now come with several features such as noise cancellations, wired to bluetooth and NFC enabled.
Headphones are now available in various styles from over the head, earbud, ear clip, in-the-ear, over-the-ear, behind the neck, wireless etc. One can choose headphones according to their choice and convenience.
Choosing a headphone from a wide range of headphones available in the market can be a very tedious task as there are numerous companies with more than thousand products. To make your job easy, we are here to help you choose your headphone and make your music listening experience better and pleasant.
So, here are the Best Headphones under 2000 Rs :
---
1. SONY MDR-XB450:
Sony MDR-XB450 is the over-the-head, on-the-ear headphone launched a while back and since then has managed to stay in race by offering variety of colors for one's style statement. The Extra Bass (XB) headphone produces the maximum power input of 1000 mW and 24 ohm of headphone impedance. It features a 30mm dynamic driver unit (Dome type) for powerful sound and frequency response of 5Hz-2000Hz. It has tangle free serration cord of length 1.2m and 3.5mm of gold-plated stereo mini plug. A swivel folded design and stylish metallic finished headphone weighs around 165 g without cable. Sony MDR-XB450 comes with ultra thin pressure reliving ear pads which offers great comfort and is available around a price of Rs. 1,600.
---
---
2. SKULLCANDY TITAN –S2TTDY206:
Skullcandy is known for providing great quality of sound to your ear drums and reproduces your music with superior clarity and fidelity.The TITAN S2TTDY-206 features precision metal housing drives of 11 mm with frequency range of 20-20000 HZ and sound impedance of 16 ohm. The in-ear type of headphone has tangle free cord length of 120 cm with 3.5 mm jack and weighs around 18 g. It also includes some other features like take/make call, track control feature etc. The Skullcandy headphone works with almost all smartphones and comes in metal travel case with 1 year of manufacturer warranty and available on Snapdeal for Rs. 1,999 also on other websites.
---
---
3. AUDIO TECHNICA ATH-CKX5:
Audio technica ATH-CKX5 made to our list at third spot due to its stunning design for comfort. A 360 degree rotating eartip adjusts to the unique angle of your ear canal for personalized fit, better sound isolation, and accurate audio reproduction. Its C-tip design fits the shape of your ear for better comfort. The sonic fuel in-ear headphone has driver diameter of 8mm produces maximum input power of 40 mW with frequency response of 15-22,000Hz and impedance of 16 ohms. The L-type connector headset has 3.5 mm of gold-plated jack with cable length of 1.2 m and weighs 10 g without the cord. Available in five different colors, this headphone will cost you around Rs. 1,666.
---
---
4. SONY MDR-XB30EX:
Sony MDR-XB30 features a 13.5mm (Dome type) driver which gives extra bass to make your music powerful than ever. The vertical in-ear headphone has power handling capacity of 100 mW with frequency response of 4-24000Hz and impedance of 16 ohm. The advanced direct vibe structure headphones have hybrid silicone ear buds which are comfortable even for longer periods. It has 1.2 m of tangle-free serrated Y-shape cord with 3.5mm gold plated L shape stereo mini plug and weighs almost 8 g (without cord). Available in two colors (Black and White), this Sony headphone is priced around Rs. 1,600.
---
---
5. SENNHEISER CX-1.00:
Last but not the least is Sennheiser, the company which is best in the business of headphones. As per the company, this headphone offers a deep and punchy bass. The in-ear type of headphone has sound pressure level up to 100dB with frequency response of 17Hz-20000Hz and sound impedance of 28 ohm. It features a 1.2 m length cord with 3.5mm jack and weighs 10 g. The ultra small designed headset comes with 4 ear adapter ear sizes (XS, S, M, L) for effective noise blocking. Available in black or white, Sennheiser CX-1.00 priced around 1,800 Rs.
---
---
So, this was a look over the 5 best headphones under 2000 Rs in India. If you like the list, please share it with your friends.