Google For India 2016: Here are the top announcements made by Google
Google, on the occasion of its 18th birthday, held a 'Google For India' event in the National Capital yesterday. At the last year's Google for India event we saw the Google's Railwire Wi-Fi project at Railway stations across India. Considering the importance of Indian market for Google, it announced some more services and products.
Let's take a look at the key announcements that the company made for India at the event:
Google Station:
Google Station is an internet access platform for Wi-Fi in Public places. Google Station will be a broadcast version of the present Railwire Wi-Fi project which has 3.5 million monthly active users and 15,000 new users coming online every day on the 52 Railway stations providing the services. Google Station will serve people with high-speed internet in public places such as Malls, Cafeteria, Universities, Bus Depots, etc.
Google Station will provide software and guidance on hardware to turn fiber connections into fast, reliable and safe Wi-Fi zones. Users will get a fast Wi-Fi experience with a simple and unified login, while making it much easier for venues to manage their networks.
Google Stations could serve as a big step in the field of public Wi-Fi hotspots in India.
YouTube Go:
YouTube first introduced 'Offline mode' in its main app where users can save the videos and watch them later without the need of internet. Then it introduced a new 'Smart Offline' feature that allows users to schedule video downloads during cheaper off-peak hours. With 'YouTube Go', the company has gone a step ahead by bringing some more interesting features.
YouTube Go app is developed around four key aspects – Reliability, Connectivity, Cost and Sociability. It aims to enable users to stream videos even on slow internet connections. It will help users save on data while browsing YouTube for videos.
YouTube Go will also let users preview videos before they decide to watch them or even save them. A user will also have the option of controlling their data spent by choosing a particular resolution/MB size before saving the video on the app. Further, you can even share your YouTube videos instantly with friends and family members who are nearby. The app relies on Bluetooth to discover friends and uses Wi-Fi Direct to transfer the video.
Google Allo Assistant in Hindi:
Last week, Google launched the Google Allo which is a smart messaging app with built-in Google Assistant and Smart Replies. Google also claimed that India was among the very first countries where its messaging app Allo was rolled out.
Considering the Indian market, Google will be enhancing its Google Assistant with Hindi Language, making it more user-friendly. The automated smart replies which Allo suggests will also be available in Hindi. The app already understands English and Hinglish, and Hindi is where it is headed next. Google also mentioned that the Google Duo video calling app has the most number of users in India after US.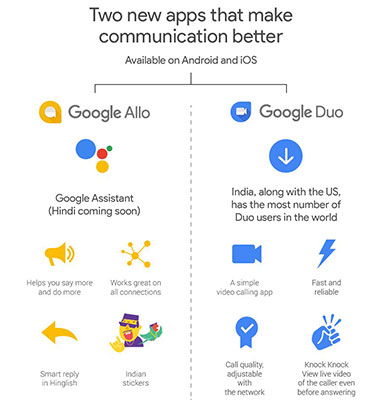 Chrome Data Saver:
Google Chrome is a widely used internet browser with billions of active users. Google announced some interesting and important updates for Chrome at the event. It will be updated with some key features like Data saving, Offline mode and Content discovery.
Google Chrome will have a new expanded Data Saver mode to reduce the data used by the browser. Up to 67% of data on mp4 videos will be saved through Chrome. This applies to mobiles, Chromebooks and even computers. Google says more than 90 per cent of user data will be saved in the new Chrome browser. The browser will also optimise pages when on 2G networks, and these simplified pages will load up to two times faster.
This new update will have a new download feature which will let users save web pages, videos, music, and pictures on their smartphones. The content will appear in the downloads tab, and it can be accessed even when the user is offline. Lastly, content discovery will allow users to view basic information like news and weather, along with articles that might be of interest to them.
Google Play on 2G:
Keeping in mind that majority of the population of India doesn't have access to high-speed internet, Google will be optimising the Google Play Store so as to allow downloading of apps even on 2G internet connections.
Google Play Store will be updated with two new features to improve the experience for users in India.
First, the Google Play app will now pre-load the most popular parts of the store on Wi-Fi. Second, when installing an app, Google Play will provide users with option to choose their network preferences such as 'Wait for Wi-Fi' which will install apps only when your phone connects to Wi-Fi, thus saving data.
Google News Lite:
Google News and Weather are getting a new 'Lite mode' for people on slow 2G connections. The mode will keep the headline while trimming rest of the content so that the page loads faster. Google says this version of the app uses less than one-third the data and Lite mode will start automatically on slow networks.
There are some more India based apps and services such as Internet Saathi, Google Developers Codelabs and Tabbed Search Experience announced by Google at the event.