iOS 10.3 with new features now available for download; watchOS 3.2, macOS 10.12.4 & tvOS 10.2 also released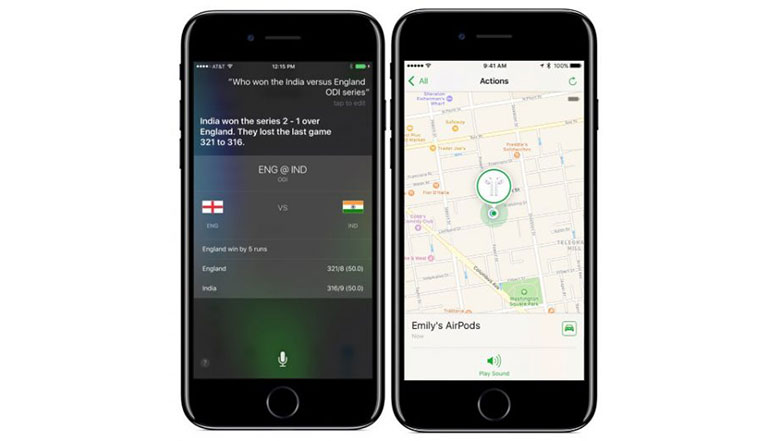 Apple has finally rolled out the iOS 10.3 for public downloads after keeping it in beta for quite a while. Along with it, Apple has also released watchOS 3.2, macOS 10.12.4 and tvOS 10.2. But the most exciting of them all is the new iOS 10.3 which is equipped with interesting new features and fixed bugs.
This new version of iOS 10 is available as over the air (OTA) download or through iTunes. It is compatible with all the iPhones right after iPhone 5 and also iPad 4th gen, iPad Air iPad Air 2, iPad Pro, iPad mini 2, 3, 4 and iPod touch 6th. The iOS 10.3 is packed with a number of new features including the 'Find my Airpods' feature which was in a lot of talks. Let's go through the list of all the new features.
Finding the Airpods using 'Find my iPhone' app:
Apple launched the wireless ear-pods called the 'Airpods' last year which debuted with the iPhone 7. Inspite of being hassle free and top quality, there was a constant risk of loosing it every now and then. Apple quickly fixing this, has brought in a new feature through which users can find their Airpods using the 'Find my iPhone' app. The users can make the Airpods to sound in case they went missing near by, which will make it easy to find them now. You can also see the location on the map as long as they are connected to your iPhone.
Siri now knows about Cricket and IPL:
Siri will now tell Cricket scores and statistics for Indian Premier League and International Cricket Council matches if asked.
Not only this, Siri will also help users with paying and checking status of bills through payment apps, scheduling rides through booking apps and will also check car fuel level, lock status, turning on lights and activating horn with automaker apps.
Other features includes:
New Apple ID setting menu
Better view of iCloud storage (breakdown of how iCloud storage is being used)
New Apple file Systems (APF'S)
WiFi calling for Verizon customers
New app transactions
3D Touch on weather icon in Maps
CarPlay shortcuts
Developers can respond to App store reviews
To download the the new iOS 10.3 right away, just tap on the settings icon then go to General and then finally to the Software Update section to check the latest update that is available on your phone. It goes like Settings> General> Software Update.
Now, let's take a look at what's new in the watchOS 3.2:
The new watchOS 3.2 is provided with features like Theatre mode and SiriKit for Apple watch. The Theatre mode disables raise-to-wake and mutes alerts. According to Apple, it lets users mute the sound on their Apple Watch within no time and avoids waking the screen on wrist raise. Users will still receive notifications which can be viewed by tapping the screen or pressing the digital crown. Also, the SiriKit lets developers integrate their apps with Siri for select uses.
The new macOS 10.12.4 comes with a night shift feature similar to that which came in for iPhones in iOS 9.3. In the night shift mode, the display colors and brightness is adjusted accordingly so as to reduce the strain on eyes, making it easier and more convenient to work during night hours. The display setting automatically gets back to normal in the morning.
Apple has also released the tvOS 10.2 for Apple TVs. The new features brought in with the OS are Accelerated Scrolling support for UIKit and TVMLKit apps, Device Enrollment Program support, Expanded Mobile Device Management support, Support for the VideoToolbox framework, fixed bugs and other improvements. The Apple TV remote app also got updated with iPad support and enhanced Now Playing.