Lenovo Smart Home Assistant, 6TB Smart Storage, Palm-sized Multimedia keyboard announced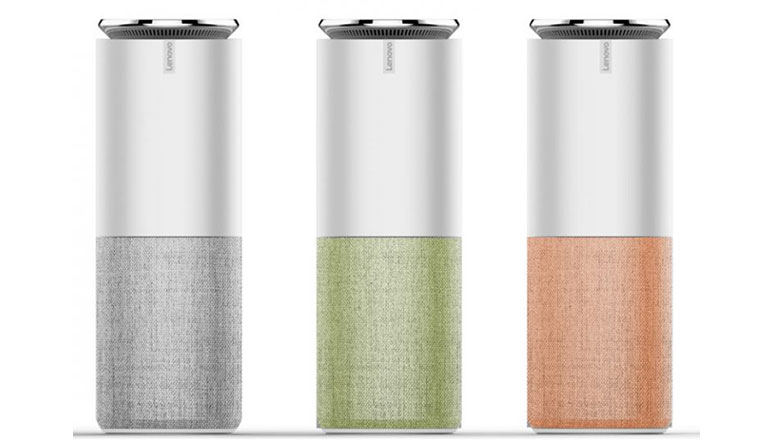 Lenovo is dipping its toe into the smart home market by introducing a host of new products, just ahead of CES 2017. The company has launched its own smart assistant powered by Amazon Alexa, a digital storage solution called the Lenovo Smart Storage with 6TB capactiy and the Lenovo 500 Multimedia Controller which is a multi-point capacitive touchpad with an integrated keyboard.
Starting with the Lenovo Smart Assistant, it works almost similar to how Amazon Echo and Google Home works. The smart home device recognises voice commands given by the user to perform functions like calling a Uber, playing music, switching on/off other smart appliances, conducting web searches, creating reminders, calendar updates and more. It is powered by Amazon's Alexa voice assistant and Alexa will get smarter with time as you use the device.
Lenovo has added eight 360-degree far-field microphones with noise suppression and acoustic echo cancellation to ensure that the assistant can pick up voice commands from 16 feet away. The company has ensured that Smart Assistant will run Lenovo smart home devices as well as other third-party connected devices to ensure maximum compatibility. It comes with 8GB of internal storage and supports Bluetooth and Wi-Fi connectivity. It comes in Light Grey, Harman Black, Orange and Blue colors and weighs about 760 grams.
Moreover, there is a special variant of Lenovo Smart Assistant with Harman Kardon Edition for premium audio quality for music and home entertainment. The Lenovo Smart Assistant starts at $129 (approx. Rs. 8,900) and the special edition smart assistant is costlier at $179.99 (approx. Rs. 12,300). Both the variants will be available in May this year.
The second device launched for the smart home category is 'Lenovo Smart Storage'. It is a secure digital storage solution with 6TB storage capacity, dual-band wireless access and multi-device auto-sync capability. The Smart Storage includes facial recognition software that can help organise your digital photo library based on faces. The company has designed security and P2P access for the stored data like images, documents, music and movies. It will be available for $139.99 (approx. Rs 9,600) from May 2017, along with the Smart Assistant.
Lenovo has launched another innovative product called the 'Lenovo 500 Multimedia Controller' as well. It is a keyboard and mouse combo that wirelessly connects to all devices and comes with support for Windows 10 gestures. This device is essentially a palm-sized wireless keyboard that doubles up into a capacitive touchpad as well. Its distinctive design allows users to use swipe gestures and clicks for navigating menus, surfing web content and opening applications. It is compatible with devices that run on Windows 7 and above, runs on AAA batteries and can offer up to 8 hours of battery life. It has a larger-than-average wireless range of 65.6ft. The small keyboard measures at 145×85.6×18.85mm and weighs in at 141 grams. The Lenovo 500 Multimedia Controller starts at $54.99 (approx. Rs. 3,800) and will also be available starting from May 2017.
CES is the world's biggest tech show, which starts from 4th Jan 2017 and we can see some more innovative products from Lenovo. Stay tuned for more updates!