RCom-Aircel merge businesses to create 3rd Largest Telecom Operator with assets over Rs. 65000 crore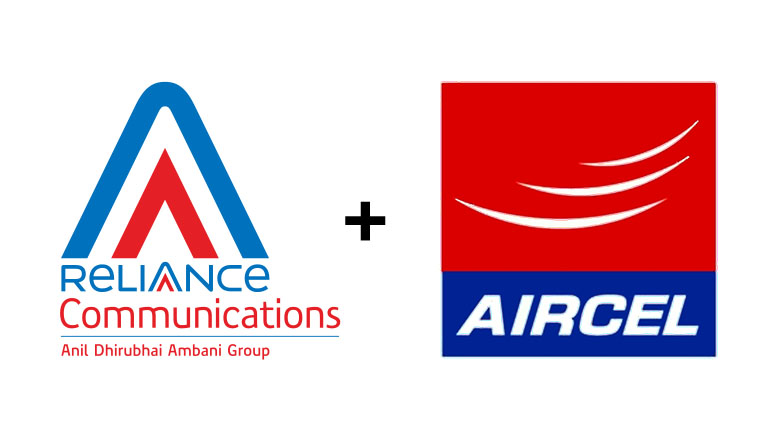 After the entry of Reliance Jio, Mukesh Ambani's brother Anil Ambani's Reliance Communications has decided to merge its mobile phone services business with the telecom operator Aircel. This merging deal has produced the fourth largest telecom company by assests in India with a net worth of Rs 35000 crore ($ 5.2 billion) and asset base of over Rs. 65000 crore ($ 9.7 billion). This is the biggest merger Indian Telecom has ever witnessed.
RCom and Maxis Communications Berhad (MCB) of Malaysia, which owns Aircel, will hold 50 per cent each in the merged entity with equal representation on the board and committees. MTS (Sistema) will continue to hold 10 percent stake in RCom with no presence on the board. Further, RCom will co-ordinate with Sistema to also invest in the merged company. Once a third partner enters, Reliance and Aircel will dilute stakes on a proportional basis.
The merging of these two telcos will form a customer base of about 194 million, including 110 million of RCom and 84 million of Aircel subscribers. This will make the new merged company 3rd largest telecom by customer base after Airtel's 250 million and Vodafone's 198 million customers.
The merged entity will have the second-largest spectrum holding amongst all operators, aggregating 448 MHz across the 850, 900, 1800 and 2100 MHz bands.
Together with our partners MCB, we are delighted to have taken the lead in consolidation of the Indian telecom sector, first, with RCOM's acquisition of the wireless business of SSTL (Sistema/MTS), and now, with the combination of our business with Aircel in a 50:50 joint venture with MCB.

–Anil D Ambani, chairman, Reliance ADAG.