Top 5 Trending Smartphone Accessories of 2016
Smartphones are getting smarter and so are the accessories of smartphones. In 2016, we have seen flurry of interesting accessories for smartphones available in the market. These accessories further enhances the utility and productivity of the smartphones.
There are all kinds of accessories for smartphones such as – VR Headset, Gamepads, Power Banks, Selfie Stick, Selfie Flash, Portable speakers, Camera modules and much more. These accessories make the most out of your smartphones and also offer great enjoyment.
But at the end of the year one question arises in our minds that which were the most popular/dominating accessories of this year. So, in this list, we have picked up the Top 5 Smartphone Accessories which were most sought after in the year 2016.
So, let's have a look at the Trending Smartphone Accessories of 2016:
---
1. VR Headsets:
VR headsets are not new or the latest accessory as they are in the market since 2015. But, they were not a go-to accessory for everyone till the last year. However, 2016 has been revolutionary for VR headsets with many VR headsets available at cheap rates, one can buy it anytime and experience the virtual world without a big hole in the pocket. There are also many high-end VR headsets launched in this year which offer incredible entertainment and a great experience of virtual world. So, among all the smartphone accessories, VR headset is the one which has marked the year on its name.
There are different types of VR Headsets ranging from as low as Rs. 300 to Rs. 10000 or more, depending on the features and quality. Some of the popular VR headsets are Oculus Rift, Samsung Gear VR, Lenovo's ANT VR, Google Cardboard and Daydream, etc.
2. Gamepads:
Everyone loves playing games on smartphones but, sometimes the touchscreen experience is not good enough. Gamepads conquers all such inabilities and provides the ultimate experience of playing games on smartphones. With a gamepad attached to smartphones, one can play games with more ease. There are many gamepads available in the market from different companies but, the Amkette Evo Gamepad Pro 2 is one of the best with an ergonomic and portable design.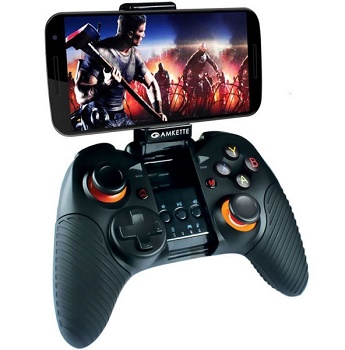 Its soft rubberized hand grip lets you play for hours and hours. The smooth and sturdier clamp with improved locking mechanism can hold phones up to 6-inch screen size safely and securely. It also comes with a tablet stand for more laid back gaming experience. You can also enjoy playing games on big TV screens by connecting your Android smartphones via MHL cable. The Evo Gamepad Pro 2 lets you play over 400 + games from the Evo Gamepad App, which is the one stop solution for all information regarding pairing the controller with your Android device and the list of compatible games. It also comes with built in multimedia keys for easy access to volume buttons. It uses Bluetooth v3.0 and has a 400 mAh Rechargeable Li-Po battery. The Amkette Evo Gamepad Pro 2 comes at a price of around Rs. 2500.
3. Power Banks:
Power Banks are not new but their importance has grown drastically in recent times, due to the increased dependency of people on smartphones. People are vastly using smartphones for their different kind of work and entertainment. But, using so many apps and being continuously on smartphones results in draining of battery in very short period of time, which can be frustrating at times.
Power Banks are a special case containing a Lithium Ion battery to store electrical energy in it with required circuitry to control the flow of power which can be later used to charge USB-powered devices. One does not have to worry about the phone's battery if a Power Bank is in the pocket. It's definitely a must have gadget for a busy person or one who travels a lot.
There are number of power banks available in the market from different companies. Some popular names include Xiaomi, Lenovo, Asus, Huawei, Syska, Ambrane and many more. However, the Xiaomi's Mi 20000 mAh power bank is one of the best at an affordable price as well. Also, you can check our list of 5 Best power banks under Rs. 1500 in India.
4. Portable Speakers:
Portable speakers are another interesting accessory to have for your smartphones. Everyone loves to stay in touch with music, whether on a tour, campaigning with family or a weekend get together with friends at some rendezvous. Portable speakers nicely replaces your home theatre to provide you entertainment anywhere. Portable speakers are speakers which once fully charged are ready to serve you sound via Bluetooth devices, FM, audio jack or even microSD cards & pen drives. In 2016, portable speakers have evolved a lot, with improved sound, design and connectivity options, portable speakers now also serve as power banks.
There are number of portable speakers available in the market varying in size, features, design, brand vale, sound quality etc. However, the JBL Flip 2 portable bluetooth speaker is one of the best with a great sound quality. There are other popular companies as well, such as Bose, Philips, Mi, Sony, Zebronics, etc. which offer great portable speakers.
5. Selfie Sticks:
Everyone loves taking selfies and it has become a huge trend, especially among youngsters. Taking selfies with 4 or 5 people is easy but, the real problem arises when you are with a big group and you have to struggle with heads and faces cut in half. Selfie stick is a perfect accessory to overcome such problems.
When using a selfie stick, you are able to shoot pics from further away. This way a whole bunch of people will fit into the frame comfortably including the background. Furthermore, selfie sticks or selfie poles enable you to take pictures from different angles also.
So, whether it be a family union, a group tour, wild festival crowd or bands performing on stage, Selfie sticks come very handy on such occasions. Selfie sticks are easy to carry, easy to connect and come at a very affordable prices as well, so anyone can have one. There are many brands and different types of Selfie sticks available in the market.
---
Hope you enjoyed this list of Top 5 Trending Accessories of Smartphones in 2016. Please also share it with your friends, it may help them to decide their next accessory.